Human Connection specialist Simone Heng is set to release her latest book Let's Talk about Loneliness in June 2023. It's highly anticipated and currently for pre-order here.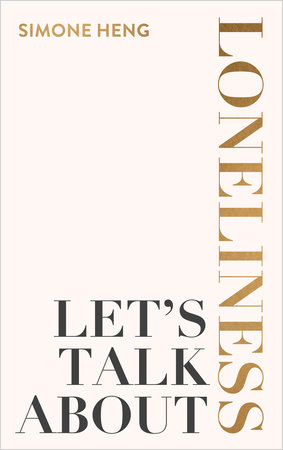 Description:
As human beings our brains are wired for connection. The feelings of disconnectedness people are facing today—isolation within our families, digital addiction, emotional trauma—hold worrying consequences for our mental well-being. But it doesn't have to be this way.
In this compelling guide human connection expert Simone Heng walks you through the meaning of human connection as it relates to every aspect of life. You will learn how to:
forge genuine relationships that keep you socially fulfilled
understand the way you connect with others
discover ways to connect with the people already in your life
Through practical guidance and lived wisdom, Simone Heng provides actionable steps you can take to nurture authentic relationships, establish deeper connections, and improve your general well-being.
This essential guide to navigating human connection in our modern world will steer you toward welcoming love, affection, and true community back into your life.
Simone Heng is a human connection specialist and former international broadcaster for, among others, Virgin Radio Dubai, HBO Asia, and CNBC. With over fifteen years of experience as a communicator on air, on stage, and one on one in different countries, connection has always been her life's work.
As a speaker, Simone inspires people to connect in a world thirsty for connection. She has spoken to thousands, and often for Fortune 500 organizations. Her clients include Google, ByteDance, Salesforce, SAP, Meta, the United Nations, and many more. Simone and her work have been featured on CNN and in Forbes, SCMP, TEDx, Vogue, Elle, and Harper's Bazaar, among others.
Simone is based and was born in Singapore but has also studied in Switzerland, was raised in Australia, and worked in the United Arab Emirates. She has a communications and cultural studies degree from Curtin University of Technology.
Simone's keynotes are:
The Future of Human Connection
The Power of Human Connection
Human Connection Webinars Connect Authentically via Technology
Connect via Video
Human Connection and Resilience
Contact us if you would like Simone Heng to speak at your next event.